---
Taking science to new dimensions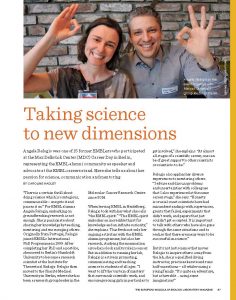 Angela Relógio was one of 15 former EMBLers who participated at the Max Delbrück Center (MDC) Career Day in Berlin, representing the EMBL alumni community as speaker and advocate at the EMBL careers stand. Here she tells us about her passion for science, communication and mentoring.
EMBL etc issue 87  2016
---
Chronotherapy: treating cancer at the right time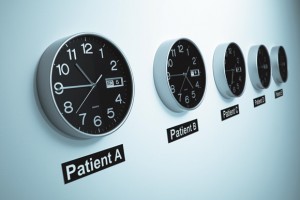 (…) Angela Relógio, a researcher at the Molecular Cancer Research Center and Institute for Theoretical Biology at Charité Medical University, Berlin. Relógio, whose name means clock in her mother tongue Portuguese, was attracted to the field by the potential of its application, the seeming logicalness of the theory, and the fact that with new high-throughput technologies and molecular techniques, it is fertile scientific ground to plunder.What we're trying to answer here is 'do you have a clock change and then cancer or the other way around?'" she says. Because the biological clock reaches deep into a cell at a molecular level to affect the timing of processes such as cell division and DNA synthesis, she says, it makes sense that a disease such as cancer — caused by uncontrolled proliferation of cells — might be linked to a faulty clock. "From what we can see there seem to be links between a disrupted clock and cancer."
The Pharmaceutical Journal 2016
---
Fuga de Cérebros-Brain Drain: Angela Relógio is one of the 20 cientists whose scientific path is described in this book. The book is currently on the top-ten list of non-fiction books.
Os vinte percursos apresentados neste livro resultam de um projeto de investigação financiado pela Fundação para a Ciência e Tecnologia (Êxodo de competências e mobilidade académica de Portugal para a Europa). Envolvendo quatro centros de investigação das universidades de Coimbra, Porto e Lisboa, e os doze autores deste livro, pretendeu-se conhecer, por meio de entrevistas e questionários, a cadeia de motivos que estão na origem dos novos perfis de emigração, percebendo em que medida a decisão de mobilidade migratória, inicialmente determinada por razões inscritas nos percursos formativos e de trabalho, se transforma em mobilidade social, mas igualmente cultural.
Bertrand Editora 2015
---
Portugal enters the M8 Alliance
Representado pelo consórcio denominado Centro Académico Clínico de Coimbra CHUC-UC, recentemente criado entre a Faculdade de Medicina de Coimbra (FMUC) e o Centro Hospitalar e Universitário de Coimbra (CHUC) e que tem como logotipo Coimbra Health, Portugal foi admitido, no passado fim-de-semana na prestigiada M8 Alliance – Academic Health Centers, Universities and National Academies (www.worldhealthsummit.org/m8-alliance.html). Esta Aliança médica de Centros de Saúde Académicos, Universidades e Academias Nacionais de Medicina de excelência mundial traduz-se na colaboração entre institutos académicos empenhados em melhorar a saúde a nível global. (…) No âmbito da sua visita oficial à Alemanha em meados deste ano, o Ministro da Saúde português, Paulo Macedo, efectuou diversos contactos em preparação desta adesão, nomeadamente junto do Presidente da M8 Alliance, Prof. Detlev Ganten, e do CEO da Charité – Universitätsmedezin Berlim, Prof. Karl Max Einhäupl, incluindo a participação da Directora de Laboratório Experimental da Charité–Unversidade de Medicina de Berlim, Dra. Ângela Relógio – cujos apoios foram, desde logo, fundamentais.

(…) Fundada, por iniciativa da Chanceler da República Federal da Alemanha, Angela Merkel, na sessão inaugural da World Health Alliance em 2009, a M8 Alliance era originalmente composta apenas pelos países integrantes do G8 e designava-se Medical 8 Alliance, passando a integrar, entretanto, outros países.
Embaixada de Portugal em Berlim, Outubro 2015
---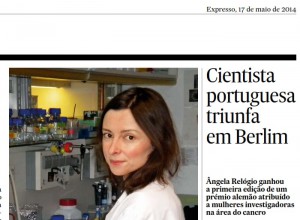 Relógio biológico falha e cancro avança
Ângela Relógio acaba de receber do Ministério Federal da Educação e Investigação da Alemanha um financiamento
de 1,5 milhões de euros para os próximos cinco anos. Atribuído na área da biologia de sistemas, este financiamento
permitirá que a cientista constitua o seu próprio laboratório no Instituto Molecular de Pesquisa do Cancro a Universidade de Medicina de Berlim, com uma equipa de cinco pessoas, que irá desenvolver um projeto de investigação — o Relógio do Cancro — para responder a três questões: como são reguladas as vias que ligam o relógio circadiano ao cancro? A regulação é específica para as diferentes etapas da progressão de um tumor? Pode ser definida a assinatura circadiana da progressão de um tumor?
 Expresso 2014 
---
Dia de Portugal, de Camões e das Comunidades Portuguesas
O Presidente da República almoça nesta segunda-feira com um grupo de cerca de 30 personalidades (…). Entre os convidados vão estar o ciclista Rui Costa, campeão mundial de estrada em 2013, a piloto todo-o-terreno Elisabete Jacinto, que venceu o Rali Marrocos 2013 na categoria camião, e o jogador de hóquei em patins Gonçalo Alves (…). O presidente da Associação dos Jovens Empresários Portugal-China (AJEPC), Alberto Carvalho Neto, a investigadora em oncologia Ângela Relógio, o presidente da Associação DariAcordar – Associação Contra o Desperdício, António Costa Pereira, o ex-presidente da Federação Académica do Desporto Universitário (FADU) Bruno Barracosa serão outros dos convidados.
Publico 2014